INDIANS OF THE NORTHERN PLAINS
INDIANS OF THE NORTHERN PLAINS I first photographed Plains Indians more than 40 Years ago. I was traveling on the Blackfoot Reservation on my way to Glacier Park in Montana. A huge encampment of tipis on the North side of the road caught my eye. I pulled over and stopped. There was a Pow Wow going on - men in eagle feather warbonnets, women in cream colored buckskins, young men, fancy dancers wearing brilliant colored feathered bustles, girls, fancy shawl dancers wearing bright shinny dresses and shawls. Dumbs throbbed. Singers wailed. Their songs from the time of the buffalo. A bend in the highway lead to a moment in the past, but was very much in the present. I was accustomed to working in the Southwest, where more often than not Indian people do not allow photography. So I went into the Pow Wow grounds without my camera and asked a man in a fancy dancer outfit iff it was permitted to take pictures. "Sure". he replied, "Everyone takes pictures" I stood there absorbing, sight and sound when and old men wearing eagle feathers and white buckskin came up to mer and said, "When you take pictures, take pictures of the young women. They are so beautiful. Take pictures of them and you wil remember this place better." With his advice in mind I retuned to my VW Bus, got my cameras, and took photos of everything - of old men who danced and then fanned themselves with eagle wings, of old women who danced in place the traditional way so the long fringes of their buckskin dresses embellished their graceful bobbing movements. I made pictures with my camera's eye and like the old man said I remember it well. I have been photographing Native Americans for over 40 years now, but still recall a bend in a Montana road - that lead to much of my future work. John Running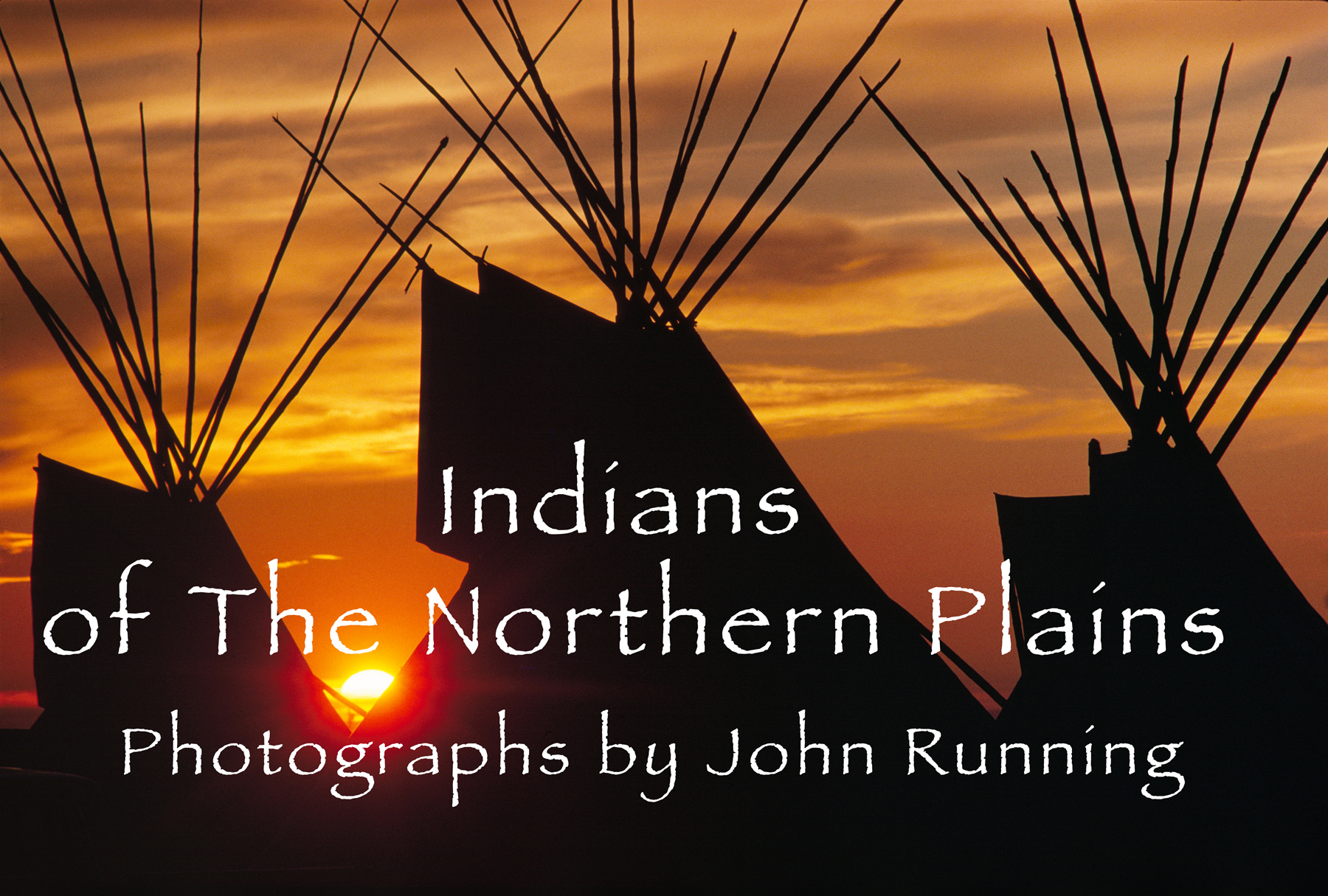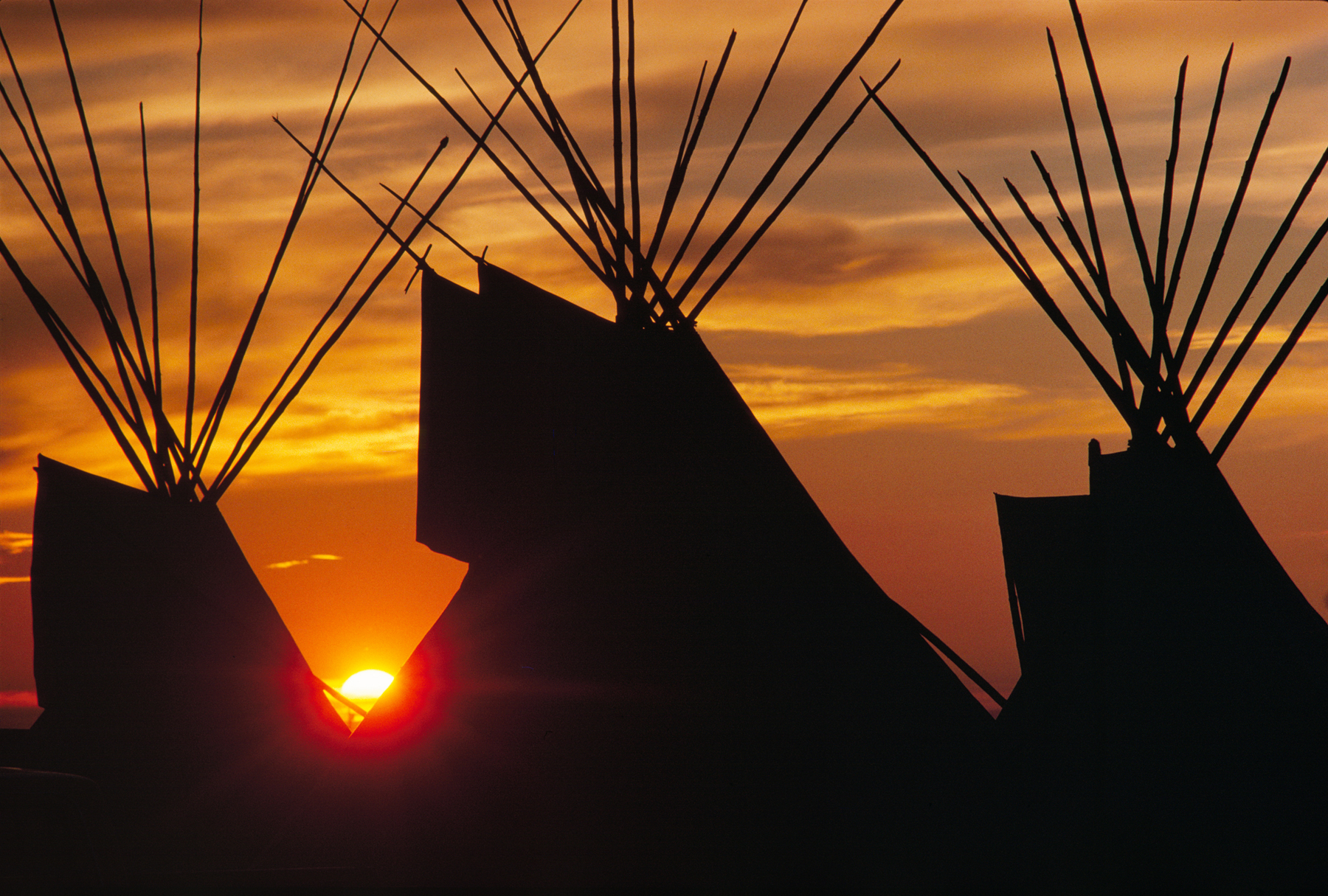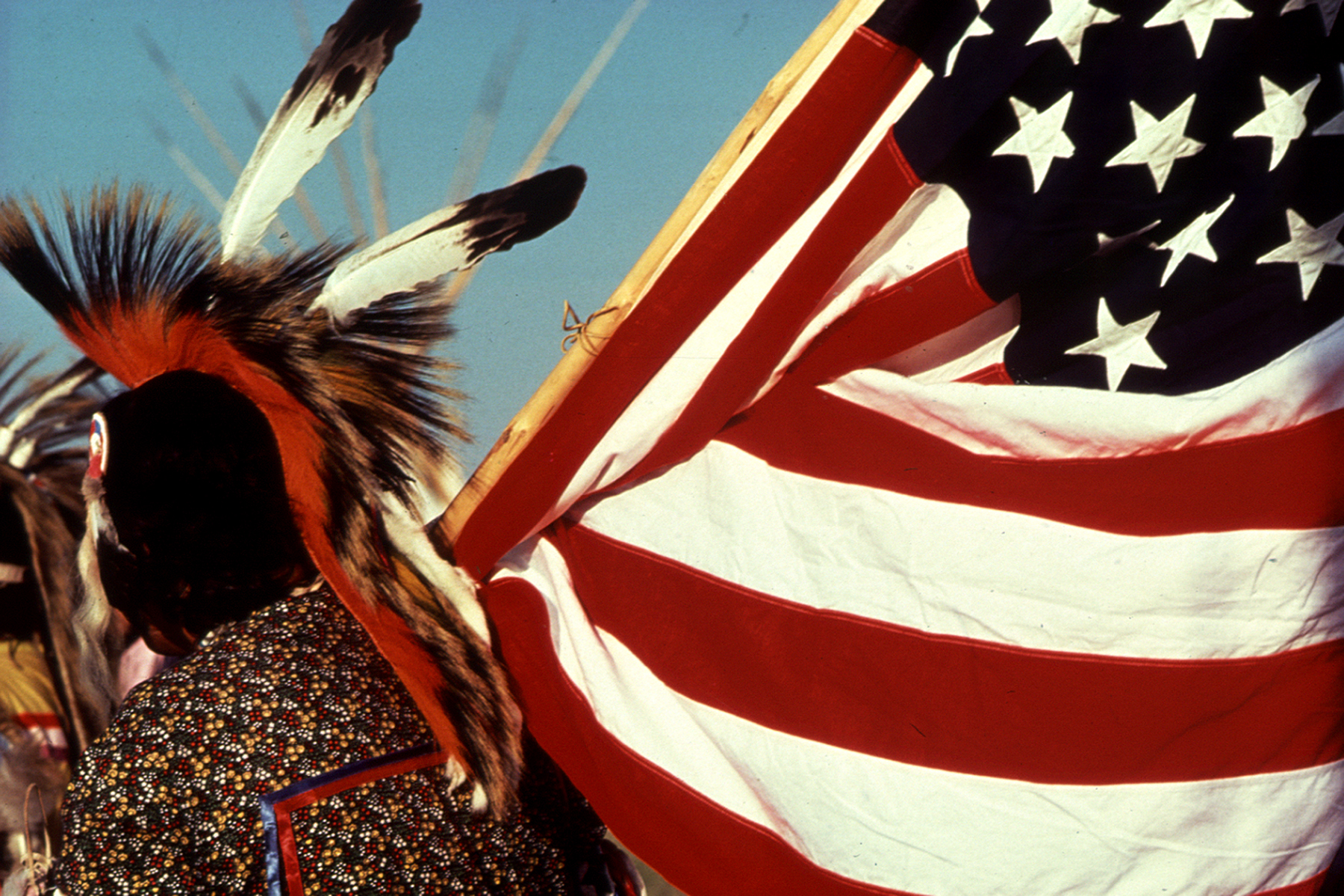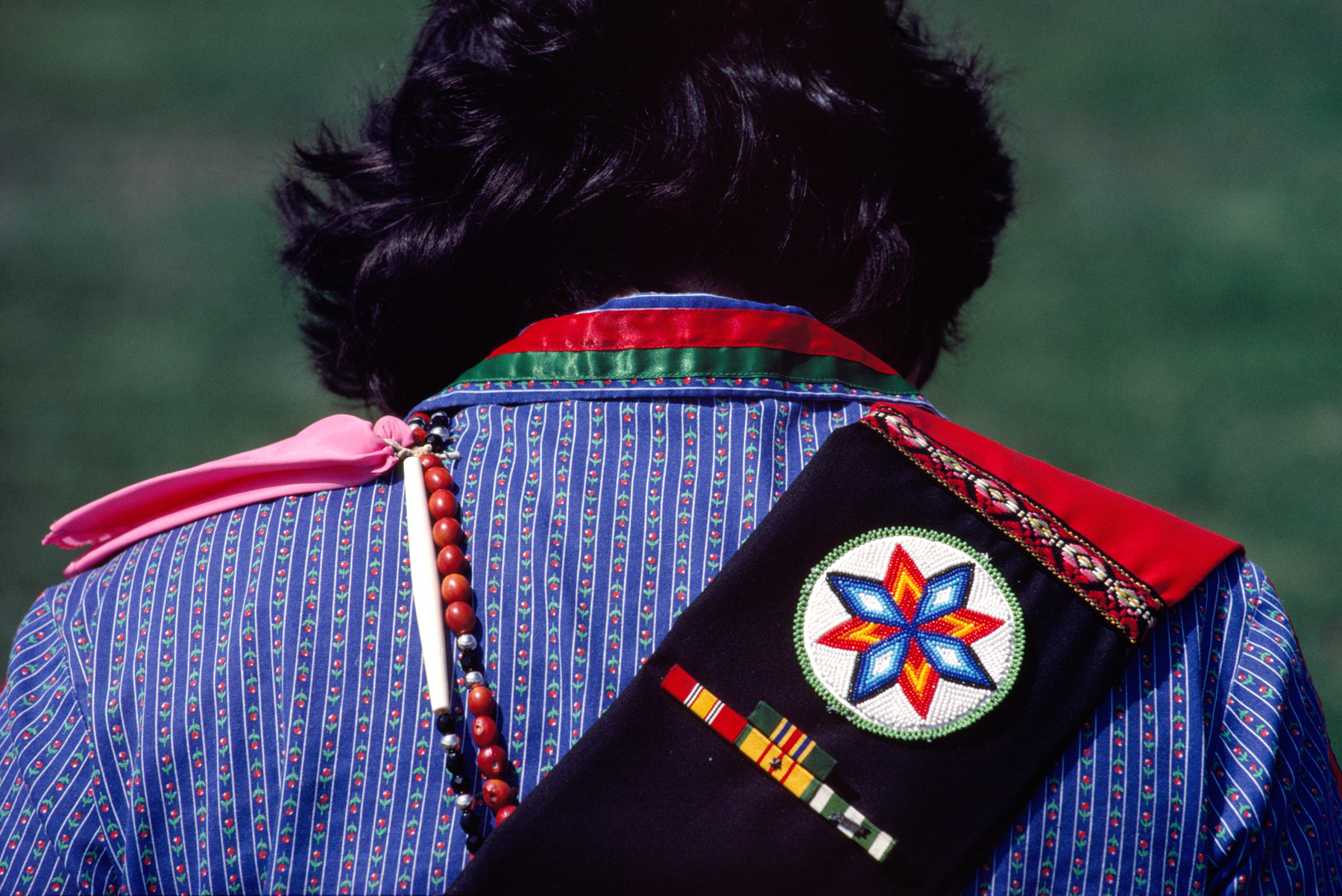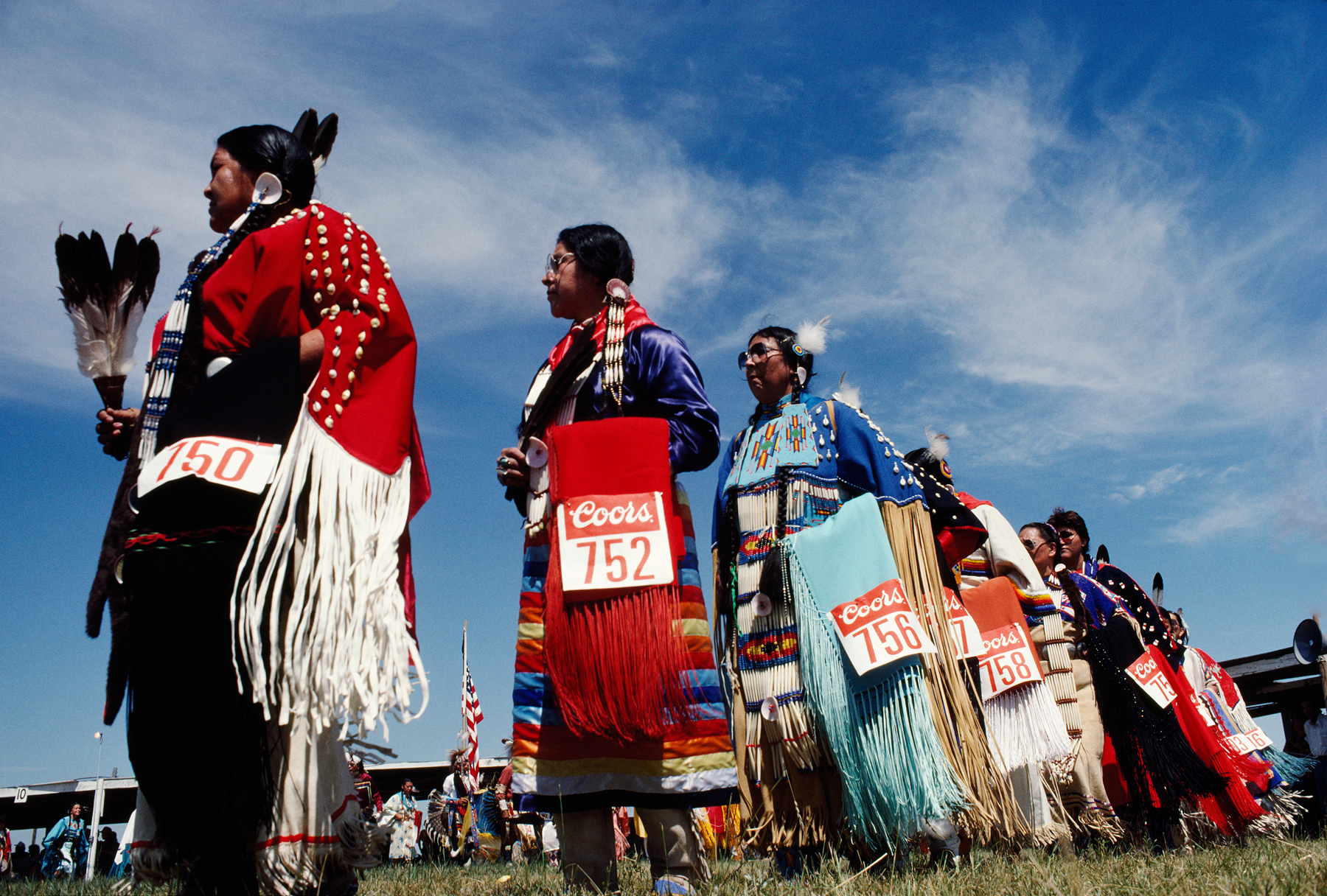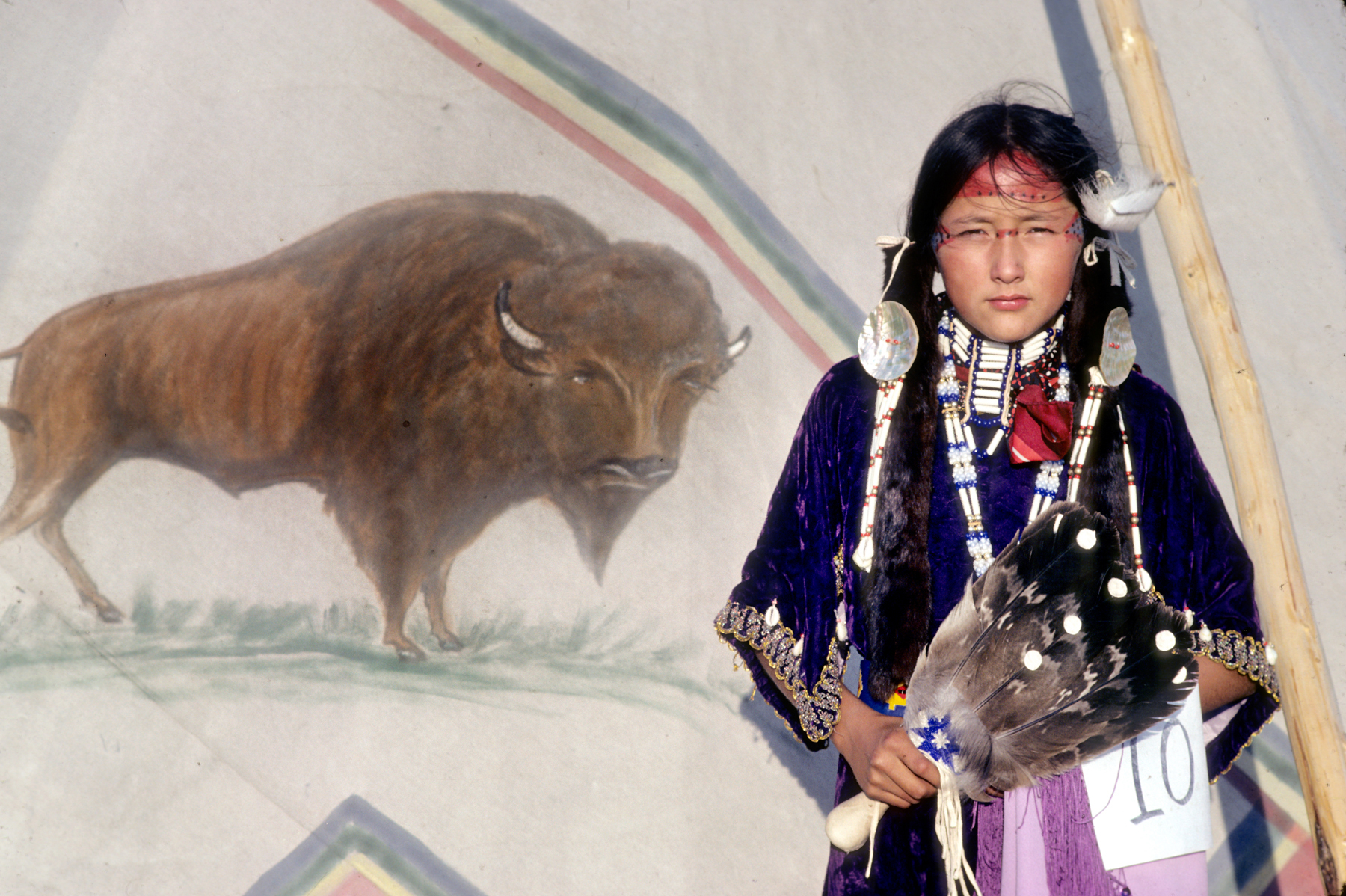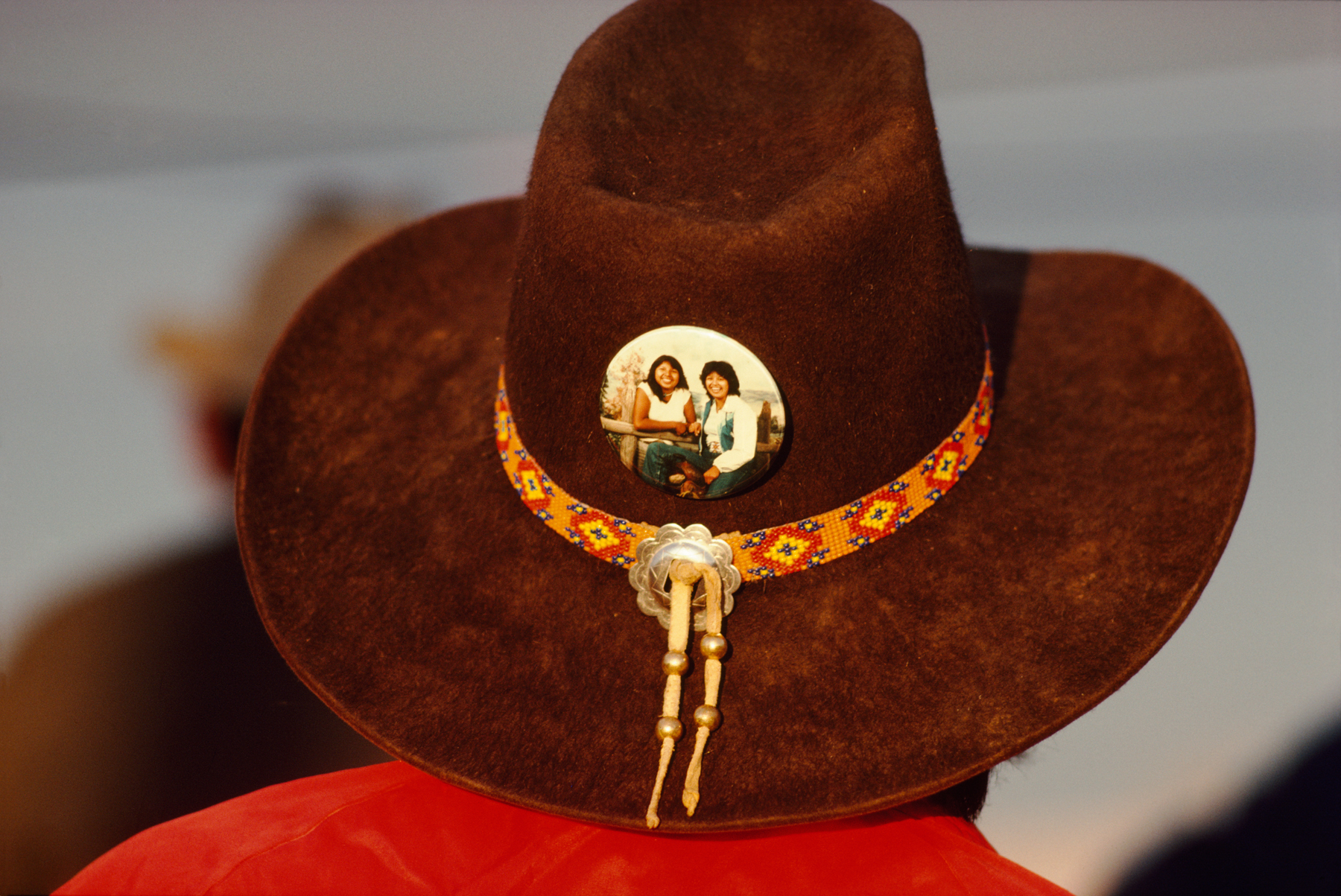 INDIANS OF THE NORTHERN PLAINS
I first photographed Plains Indians more than 40 Years ago.   I was traveling on the Blackfoot Reservation on my way to Glacier Park  in Montana.   A huge encampment of tipis on the North side of the road caught my eye.   I pulled over and stopped.   There was a Pow Wow going on - men in eagle feather warbonnets, women in cream colored buckskins,  young men, fancy dancers wearing brilliant colored feathered bustles,
girls, fancy shawl dancers wearing bright shinny dresses and shawls.   Dumbs throbbed.   Singers wailed.  Their songs from the time of the buffalo.    A bend in the highway lead to a moment in the past, but was very much in the present.   
I was accustomed to working in the Southwest, where more often than not Indian people do not allow photography.   So I went into the Pow Wow grounds without my camera and asked a man in a fancy dancer outfit iff it was permitted to take pictures.  "Sure". he replied, "Everyone takes pictures"   I stood there absorbing, sight and sound when and old men wearing eagle feathers and white buckskin came up to mer and said, "When you take pictures, take pictures of the young women.   They are so beautiful.   Take pictures of them and you wil remember this place better."
With his advice in mind I retuned to my VW Bus, got my cameras, and took photos of everything - of old men who danced and then fanned themselves with eagle wings, of old women who danced in place the traditional way so the long fringes of their buckskin dresses embellished their graceful bobbing movements.  
I made pictures with my camera's eye and like the old man said I remember it well.   I have been photographing Native Americans for over 40 years now, but still recall a bend in a Montana road - that lead to much of my future work.
                                    John Running